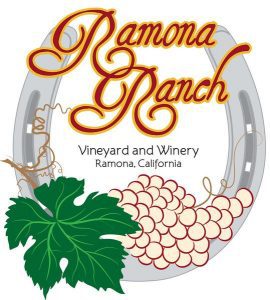 Ramona, Calif., September 14, 2017
Ramona Ranch Vineyard and Winery is the first in San Diego County to be designated Certified California Sustainable Winegrowing (CERTIFIED SUSTAINABLE) as a result of meeting a comprehensive set of standards for "environmental stewardship, conservation of natural resources and socially equitable business practices" set by the California Sustainable Winegrowing Alliance (CSWA).
Ramona Ranch, a San Diego Vineyard and Winery, is located in the heart of the Ramona Valley American Viticulture Area (AVA). Winemaker Micole Moore with co-owner Teri Kerns, produce award-winning wines from estate and local Ramona vineyards that they have personally selected for the quality of the fruit.
"The California wine community has a deep commitment to responsible environmental, business, and community practices, and we are pleased for Ramona Ranch Vineyard and Winery to be recognized for their sustainability efforts through the Certified California Sustainable Winegrowing Program. Ramona Ranch Vineyard and Winery joins more than 900 California vineyards and nearly 130 wineries that are CERTIFIED SUSTAINABLE," said Allison Jordan, Executive Director, California Sustainable Winegrowing Alliance.
Micole Moore said, "After more than five years of working toward this certification, we are proud that Ramona Ranch Vineyard and Winery meets the high standards of sustainability set by the CSWA for both our vineyard and winery. We are especially proud to be part of protecting the eco-system of our beautiful home here in the Ramona Valley. We'd like to thank Sonoma's Benziger Family Winery who inspired us to achieve our certification."
CERTIFIED SUSTAINABLE is an outgrowth of the Sustainable Winegrowing Program, a free, educational program initiated by the Wine Institute and California Association of Winegrape Growers (CAWG) in 2002 to provide educational information and encouragement of sustainability. This third-party certification program was developed by the Sustainable Winegrowing Joint Committee—comprised of 50 grower and vintner members of the Wine Institute and CAWG—and sustainability certification experts and launched in 2010. Input was also solicited from other industry and external stakeholders.
To qualify for sustainable status Ramona Ranch Vineyard and Winery had to:
Complete an annual self-assessment of 140 vineyard & 104 winery best practices; meet 58 required prerequisite practices for vineyards, and 37 required prerequisite practices for wineries; comply with "CERTIFIED SUSTAINABLE" list requirements; meet sustainability performance metrics for water, energy, nitrogen and GHGs; demonstrate continuous improvement in the adoption of sustainable practices; undergo an annual audit and submit an audit report each year; and complete a Chain of Custody audit.
As a sustainable vineyard and winery, Ramona Ranch Vineyard and Winery:
Provides integrated pest management and creates and maintains owl habitat, raptor perches, and insectary zones to attract beneficial insects—recently recognized by the National Wildlife Federation as a Certified Wildlife Habitat. With a natural riparian area, the quail coveys are thriving, along with a family of California Greater Roadrunners, red-tail and cooper hawks, beneficial snakes like the coastal rosy boa, and the occasional golden eagle or snowy egret.
Integrates the management of the vineyards with the ecosystem by introducing and preserving native plants, maintaining riparian habitats, and protecting endangered species—to achieve biodiversity.
Planted native cover crops and limits vehicle use to reduce dust and greenhouse gases.
Constantly monitors soil moisture and measures the vines' water needs. Uses low volume drip irrigation to regulate scarce water resources.
Assures healthy living soils that grow great vines by adding organic matter, planting cover crops, and utilizing compost.
Provides solar and wind energy systems to power for vineyard and winery operations
Ramona Ranch Vineyard and Winery is located at 23578 Highway 78, Ramona, CA 92065. 760-789-1622. Open for tasting: Friday, Saturday, Sunday 11:00 a.m. to 6:00 p.m. Monday through Thursday-by appointment only.
For additional information on Ramona Ranch Vineyard and Winery, go to www.ramonaranchwines.com For additional information on the California Association of Winegrape Growers (CAWG), go to www.sustainablewinegrowing.org
Media contact: Joyce Strand 408-210-2422